Photography is an art form that has taken the world by storm. From amateur hobbyists to seasoned professionals, photographers around the world rely on photo editing software to perfect their creations every single day.
Among the most popular options out there are Adobe Photoshop and Capture One. Both are known for their exceptional capabilities, but which one is truly the best?
In this article, we'll take a deep dive into the world of photo editing software and compare Photoshop to Capture One in the hopes of finding the perfect fit for your needs. As we explore their unique features and capabilities, we'll consider the different use cases for each program and help you determine which one is right for you.
Whether you're a seasoned pro looking to upgrade your photo editing software or a budding newbie just starting out, we've got you covered. So sit back, relax, and join us on this journey to discover which photo editor reigns supreme.
Key takeaways
Photoshop is much better for detailed editing
If you need to work with multiple exposures, blending, removing objects, and touching up photos, Photoshop is the way to go
Capture One is better for working with RAW files and sorting your photographs
Photoshop and Capture One are not mutually exclusive – if you use both, you can use Capture One to organize and process, and Photoshop for touching up before delivering.
Adobe Photoshop Overview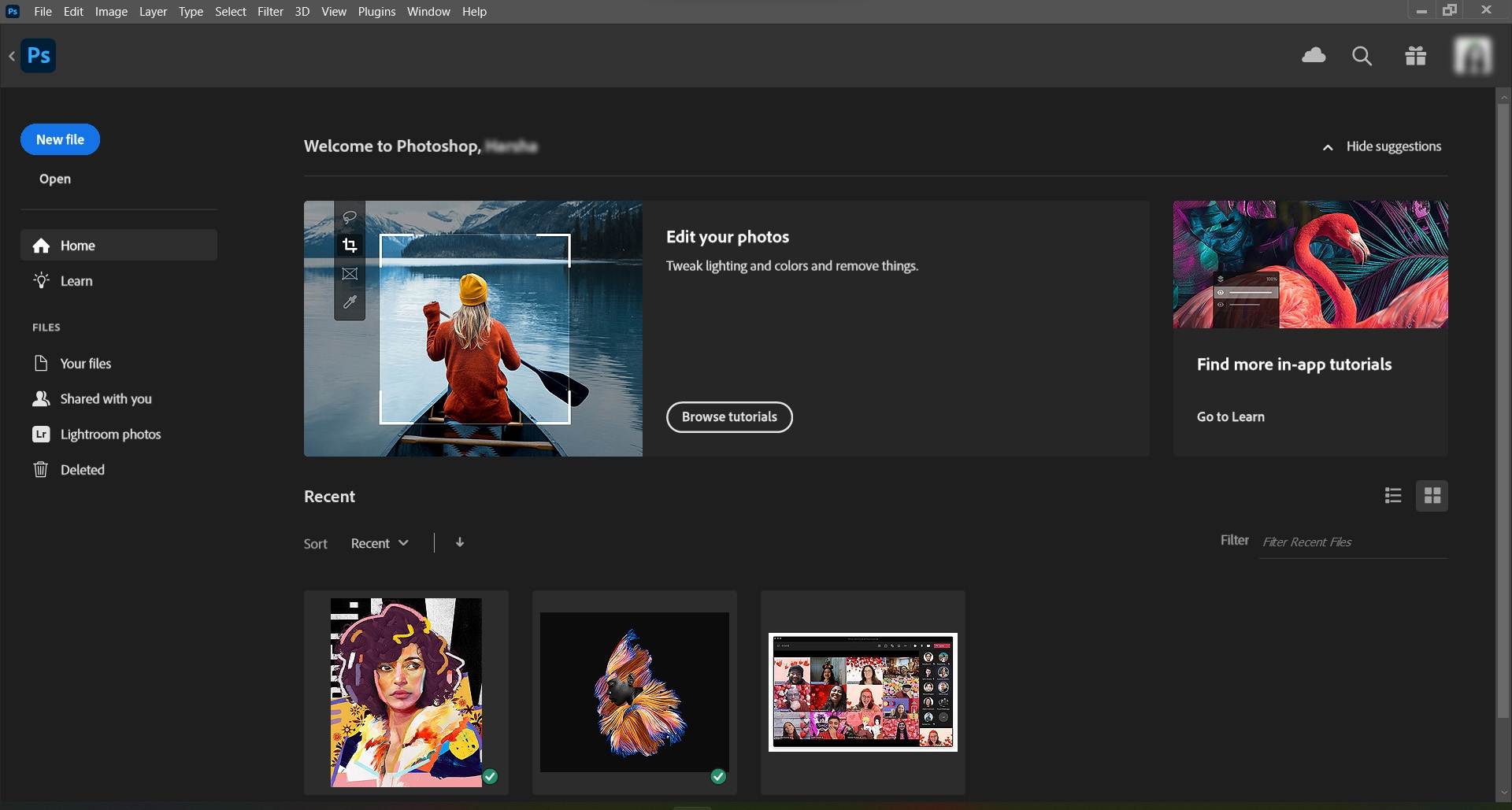 This image editing software needs no introduction – it's used by professional photographers and graphic designers everywhere to produce practically anything you can think of. Promotional material? Vector graphics? A little bit of color correction?
Whatever you're hoping to do, chances are Photoshop can handle it. Image manipulation in particular is handled very well by the program. We explore a few of its key features below.
Photoshop Elements – A Quick Note for Minor Edits
Before we dive into Adobe's full suite in more detail, we wanted to touch briefly on Photoshop Elements. This no-frills version of Photoshop might be perfect if you're working on a budget. If you only care about photo editing, we strongly recommend checking it out.
You'll still be able to edit photos to your heart's content. You just won't have all the bells and whistles that come with a fully fledged piece of photo editing software.
The latest version can be found here and can be picked up for a one-time purchase of less than $100 at the time of writing.
Pricing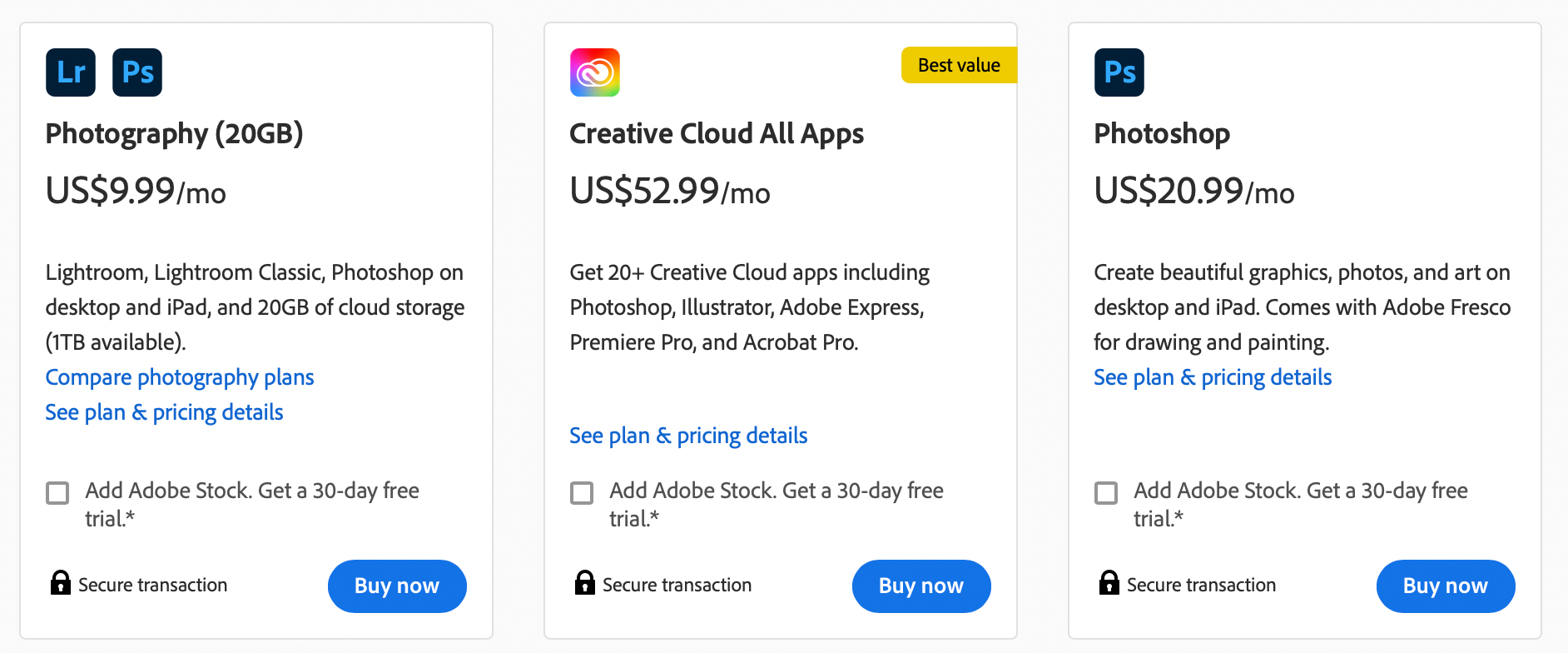 Most professionals know that image editing software doesn't come cheap. In the case of Photoshop, you've got a few options when it comes to pricing.
Photoshop can be accessed for $10 a month on subscription. This includes Lightroom access for extra photo editing tools and options.
For $53 a month, users can access Adobe's entire suite of creative cloud apps. If other programs like Adobe Acrobat or Illustrator may be of use, then this can actually work out as fairly good value. Otherwise, this can quickly eat into your budget.
If you add Adobe stock to any order, you'll get a 30-day free trial thrown in for good measure.
Editing Capabilities
The editing tools on offer here are legendary in the photo editing industry. They can take a little getting used to in some cases, but once you've mastered them, you'll be unstoppable. Everything from the magic brush tool to content aware fill is designed to give you full control over your images.
Just be prepared for a bit of a learning curve. The nature of Photoshop means that you might not hit the ground running overnight. The good news is that there are tons of resources out there to help you get to grips with things.
Free YouTube tutorials like this one are a great place to start.
Photoshop Brushes
The brush tools available on Photoshop are one of the things that make it so powerful. The magic brush tool in particular deserves a fair bit of praise. It makes selecting, isolating, and editing various objects in your scene effortless.
Once you start combining brushes with other features of the app, you're really flying. For example, it's possible to select a certain part of your image and then use content aware fill to completely remove it from your scene!
A powerful set of algorithms intelligently 'fill' your selected space with appropriate pixels so it looks like the object you selected was never there in the first place.
Online Resources
One thing to keep in mind about this photo editing software is that its ubiquity can be its saving grace. Name a task, obstacle, or challenge and chances are you'll be able to find users online who have already made tutorials on how to get where you need to be.
There are countless resources available that can help newbies get up to speed with the program as quickly as possible. In many cases, they're completely free or ad-supported.
Mix and Edit Flawlessly
Whether you're diving into the details of just one photo or mixing and matching several images into a larger composite, Adobe's app does a fantastic job here. We're particularly fond of the 'adjustment layer' feature.
In short, it separates the adjustments you make to an image from the image itself. This gives users greater levels of control and allows for non-destructive edits that can be saved on when you're happy with the final result of your scene.
Wondering how Mixing and editing fares in Capture One? We jump into the skin tone settings of Capture One a bit further down on this page.
Plug Ins
Photoshop integration with plug-ins is arguably one of the most powerful weapons in the program's arsenal. In just a few clicks, it's possible to add rich new features to the app. Some of these plug-ins are completely free!
Photoshop supports countless features natively, but this can really come in handy once you encounter something that you're missing.
Hot folder functionality and tethered capture are two great examples of features that can be unlocked with the right plug-ins.
The Creative Cloud/ Lightroom Bonus
If photo organization and extra editing tools matter to you, it's definitely worth adding Lightroom to your monthly subscription. If you don't need to do anything in-depth when editing, this option can help you slim down your workflow considerably.
The user interface is designed to make quick edits effortless. You can take your RAW files from 'meh' to share-worthy in just a few clicks!
Another great option for those who love photo organization is Adobe Bridge. This "digital asset manager" is designed to give you full control over how your photos and other media is organised. It comes free with a Creative Cloud subscription .
iPad App
In contrast to Capture One, Photoshop already has a standalone app for iPad that's ready for download (the Capture One equivalent is set for release in mid to late 2022). While it's not quite as fully featured as the desktop version of the program, it's still plenty powerful for photo edits.
Graphic Design Tools
Photoshop isn't just great for photographers; graphic design is another area that the app tackles with ease. Layers, image masks, vector graphics, and a huge library of fonts are all ready and waiting.
As with the photography tools discussed above, there's a bit of a learning curve to climb here. Once you're up to speed, though, you'll be creating promotional material like nobody's business!
Capture One Overview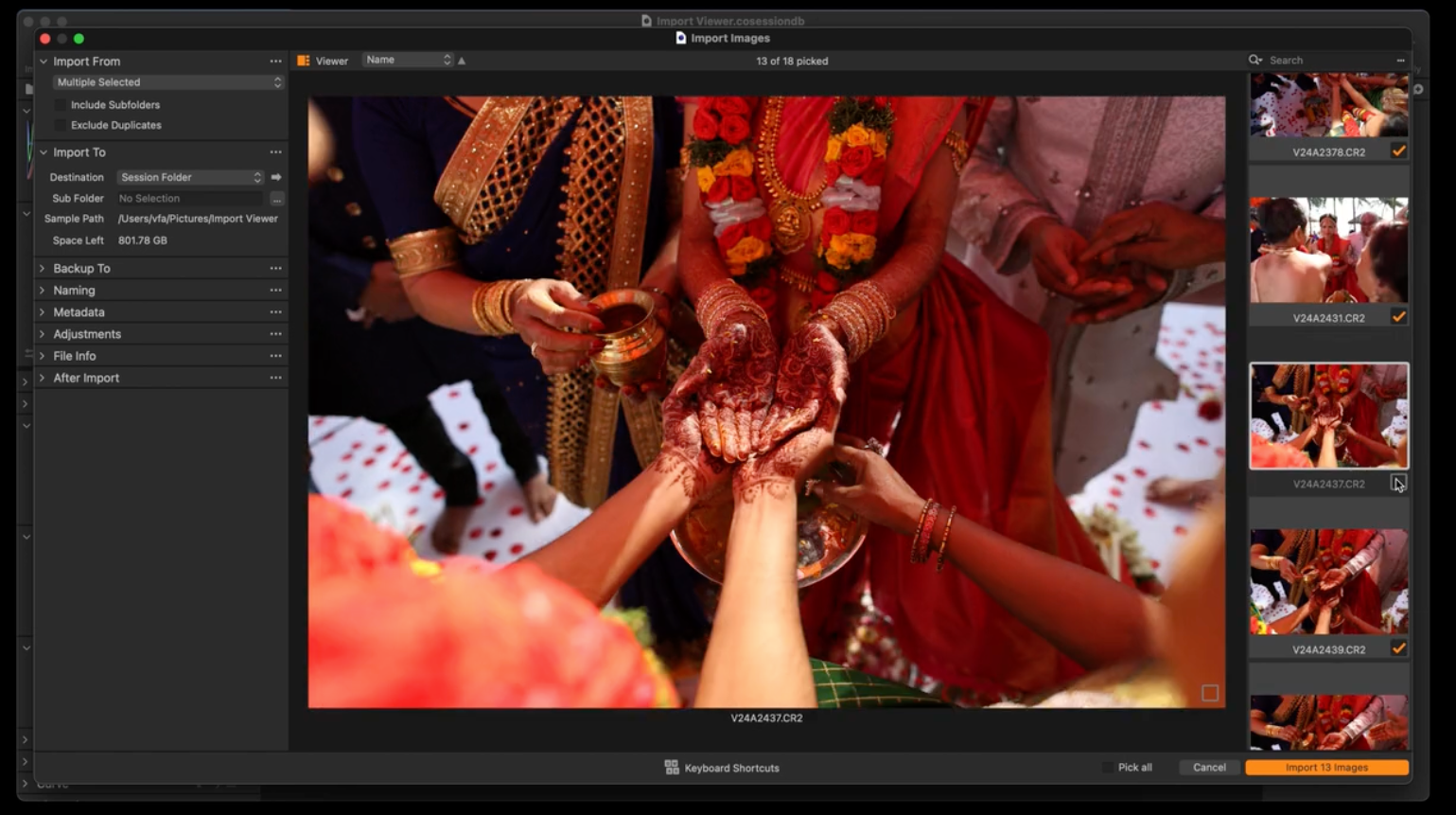 Capture One's suite of tools feels a little different to that of Photoshop's but it can be every bit as powerful in the right pair of hands. Organizing your collection and RAW processing are two areas that the app handles particularly well.
In this section, we'll explore the key features available through Capture One and touch on what stood out to us in our research.
Pricing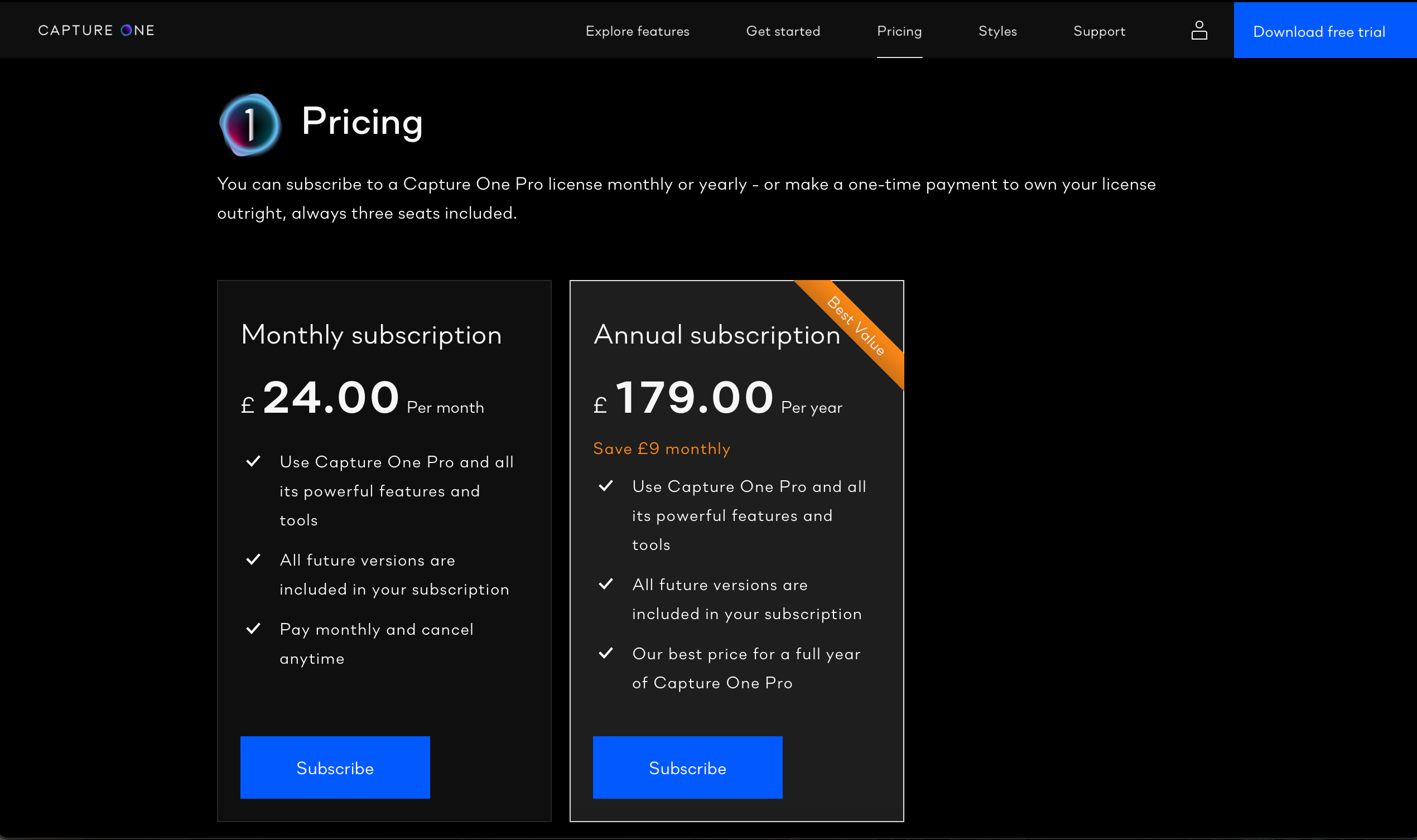 The first thing to mention here is that Capture One works out as significantly more expensive than Photoshop. You can subscribe on a monthly basis for around $30 or stretch to an annual subscription for close to $200.
One silver lining is that users can test the app for 30-days without giving any payment details at all. A solid month should be more than enough time to make a final decision if you ask us.
Editing Tools
Just like Photoshop, Capture One offers myriad ways to mix, edit, and update your existing images. The user interface is geared more towards instant, convenient changes that can be made in just a few clicks.
Dig a little deeper, however, and there's plenty of power-users options ready and waiting. Color accuracy and color editing in particular are two areas that we think are flawless on Capture One. Your images will look spectacular with the deepest of darks and the most vibrant of brights.
Remote Functionality
The remote features of Capture One can be incredibly useful in the right context. This is especially true if you work as part of a team on set. Sick of having groups of people crowd your screen every time you want to share your progress?
With the "Capture Pilot" iOS app, this issue can become a thing of the past! Once you've granted access, your team will be able to view, rate, and browse your connection remotely. This can be done live while you work in the studio.
This is just one of the ways that Capture One helps to optimize users' workflow. The ability to use an iPad as a second screen through Capture Pilot is another huge bonus. Another great feature here is the ability to remotely control your camera.
Once you've set up the app, you'll be able to take photos from anywhere in the room without messing with your existing setup.
While these features genuinely are awesome, our advice here is to test out the app with your setup during your 30-day free trial before making any final decisions. Plenty of people online love Capture Pilot, but there are just as many users willing to complain about its lack of reliability and its simple user interface.
Your mileage may vary. A video about the app from Capture One can be found here:
Tethered Capture Option
The fact that Capture One comes with tethered capture support baked in is another huge bonus. To those unaware, tethered shooting is used by professionals everywhere to dramatically speed up their workflow.
Once your camera has been tethered to your computer, images you take will automatically be sent to your PC. In a photography studio environment, this can be an absolute Godsend. You'll be able to shoot, edit, and publish your work far faster than before!
In case you didn't know, tethered capture is also available to those using Lightroom. It's not built into Photoshop by default, however.
Hot Folder Functionality
Another workflow-boosting feature of Capture One is hot folder functionality. This can make editing and tweaking your work a breeze in just a few steps. Once set up, a hot folder will automatically import any images that enter the folder in to Capture One.
This means that instead of going through the import process manually each time, you'll be able to simply click and drag whatever you'd like to work on into your hot folder and then get straight to work.
Once you combine tethered shooting with hot folders, you can really start flying. Imagine taking a photo, having that image transfer automatically to your PC, and then automatically import into your photo editing software of choice. This is all super easy to do with Capture One!
This feature also exists in Lightroom. It's called a 'Watched Folder' and can be set up relatively easily.
Capture One Plug Ins
Much like Photoshop, a broad range of plug-ins are available for Capture One. It's worth mentioning, however, that Adobe's offerings here are slightly more impressive. The maturity and ubiquity of the program means that more third-party developers have made plug-ins for Photoshop.
This might not be a dealbreaker for you; the basic tools that come as standard with Capture One may well be enough. Your best bet will be to try out the program for free in your 30-day trial and see if it works for you.
Online Resources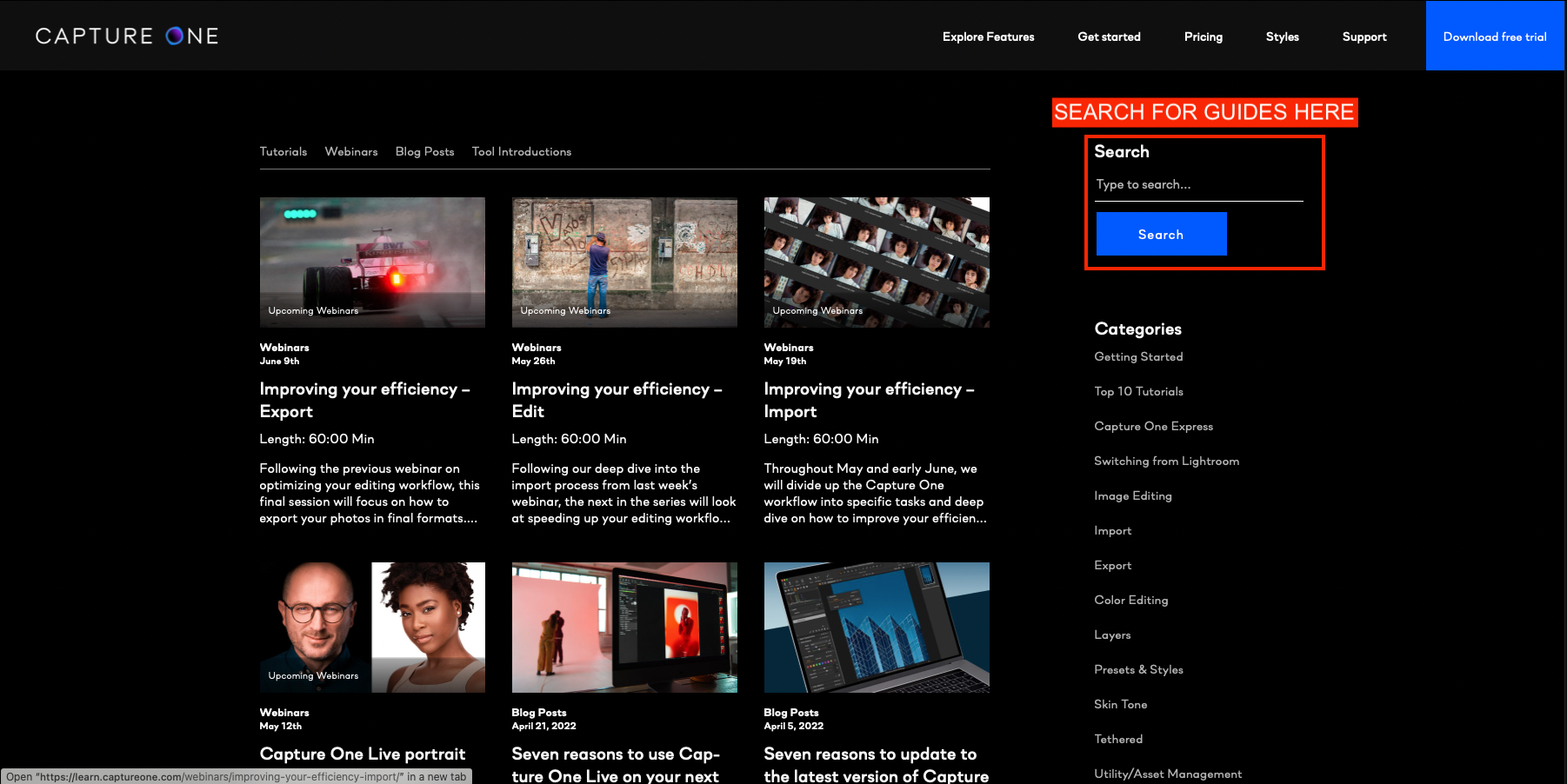 We mentioned above that the number of Photoshop resources available online is truly staggering. Want to learn about composition mode? Gradient filters? Applying an overlay mask? Chances are, someone on YouTube has got you covered.
It's not as though this kind of support doesn't exist for Capture One, it's just that it's more likely you'll reach a dead end if you're searching for something pretty niche. A silver lining here is that Capture One's website does have a dedicated 'learning section' that should help clear up most questions.
The search tools on the right-hand side of the homepage are designed to get you where you need to be.
iPad App
One shortcoming of Capture One is that its iPad app isn't yet available. While many of the company's promises about the program seem exciting, it's difficult to tell how accurate any of their claims will be.
The iPad app should be available from mid to late 2022 so watch this space.
Who Should Use Photoshop?
So, who should stick with the classic that is Photoshop? In this section, we'll outline the kind of person who will benefit most from this option.
Professional Photographers
This will of course depend on your specific use case, but tons of professional photographers trust Photoshop every single day. Features like content aware fill, adjustment layers, and the camera support available are all fantastic.
Emerging professionals may prefer Photoshop as it's still an industry standard around the world. This isn't to say that Capture One can't compete. It's just that sometimes using the standalone application "that everyone else is using" can be the most convenient option.
If you're more of a casual photographer or just want to get to grips with the basics, Photoshop Elements may be a great place to start!
Those OK With a Learning Curve
If you decide to go the Adobe route, just be ready for a bit of a learning curve; you won't necessarily be editing like a pro overnight. With a little patience and the right tutorials, however, you'll be throwing around adjustment layers and tweaking skin tones before you know it.
Just don't be surprised if your first few tries prove challenging.
Those Who Need a Huge Toolkit
The flip side of the curve described above is the sheer volume of tools you have at your disposal with Photoshop. The number of adjustment tools available for tweaking skin tones, file formats, and much more really is staggering.
The existing catalog of plug-ins is also tough to argue with. If you know that you're someone who needs a lot of options, Photoshop is probably the best photo editing software for you.
Graphic Design Lovers
Creating graphic art is a super common use of Photoshop. Those who also need an external editor with extra control may benefit from Adobe Illustrator. The good news here is that depending on your Creative Cloud subscription, you may get access to this app for no extra cost.
Again, Capture One is more than capable as a graphic design tool. It's just that Photoshop has the edge here in our opinion.
Users Making Complex Photo Edits
When comparing photoshop to Capture One, we felt that when it comes to super complex or niche edits, Photoshop wins by a hair or two. Things like blending multiple exposures or creating super "out there" work just comes more naturally in Adobe's program.
There's a degree of subjectivity here, so be sure to check out both on a free trial before making a final decision.
People Who Could Benefit from Creative Cloud
We've harped on about Adobe's Creative Cloud throughout this article but it bears repeating; the suit of tools on offer here can be really good value if they're genuinely of interest to you as a creative.
If you're someone who could use a fully fledged PDF reader, illustrator, photo organization tool, RAW editor, and more, then the ~$50 subscription may seem palatable. Thing is, this is a serious expense if you only need one or two apps.
The final call is up to you.
Who Should Use Capture One?
So, what sets Capture One apart? Who would benefit most from this option? We explore some key points below.
Those Who Need to Process RAW Files
Capture One's RAW processing deserves a fair bit of praise. When comparing Capture One to Photoshop, we preferred the way Capture One handled RAW conversion and RAW images overall.
RAW files are fully compatible with Capture One and can be edited to your heart's content. In case you weren't already aware, the level of detail and control you get over your final image with working with RAW files is hard to overstate.
Don't get us wrong – Photoshop works great with RAW conversion and file formats too. We just preferred Capture One here overall.
Customization Fans
One huge bonus to using Capture One is the ability to deeply customize the user interface. Don't like the way certain menus are working? Want to rearrange your favorite tools? This is all super easy using Capture One.
Add this to the fact that Capture One is already a pretty intuitive program and you may be onto a real winner if you're the right kind of worker.
Those Who Love An Efficient Workflow
While we're on the subject, we think that maintaining an efficient workflow is a touch easier with Capture One. A number of design considerations and baked-in features make it much smoother to get from point A to point B.
Let's say you're a wedding photographer, for example. You might like to set up a tethered camera that automatically transfers your photos to a hot folder and then imports them to your RAW processor or editing tool.
This is all possible with Photoshop, but it feels much simpler with Capture One in our opinion.
Neat Freaks
Image manipulation, photo organization, and general 'tidiness' considerations are better on Capture One if you ask us. When you're brand-new to Photoshop, it can be easy to get overwhelmed by the UI and sheer volume of tools.
Capture One is slightly smoother sailing in our opinion.
Capture One VS Photoshop – Final Thoughts
In conclusion, we've provided a comprehensive comparison between Capture One and Photoshop, outlining their strengths and weaknesses in various areas of photo editing. Ultimately, the choice between the two will depend on your individual needs, preferences, and budget.
We highly recommend taking advantage of the free trials offered by both programs before making a final decision. This will allow you to test drive the software and get a feel for their features and capabilities. Additionally, consider how much of Adobe's Creative Cloud you're likely to use, as it can be a significant expense for some.
Whether you're a professional photographer or a hobbyist, choosing the right photo editing software can make a world of difference in the quality of your work. So take the time to research, explore, and experiment with different options to find the one that best suits your unique style and needs.
We hope this article has provided valuable insights and guidance in your quest for the perfect photo editing software. Remember, there's no right or wrong answer when it comes to choosing between Capture One and Photoshop – it's all about finding what works best for you.