Nikon is a popular choice of camera when it comes to photography. The brand is renowned for delivering top-quality DSLR cameras. But having a good lens is equally as important as a good camera.
Nikon offers a variety of lenses, but we are going to delve deeper into the D and G lenses. The key difference between the D and G lenses is their age.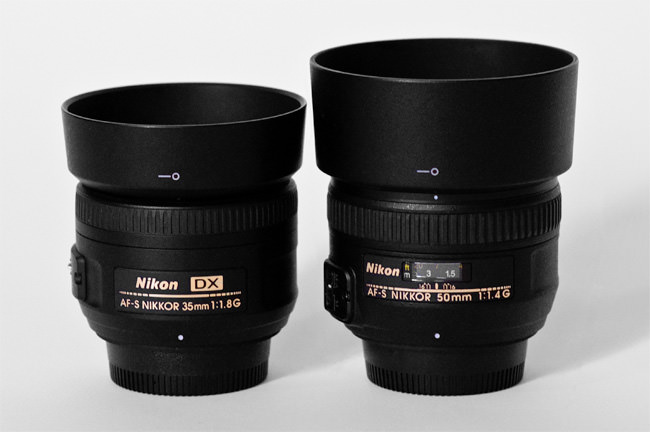 The D lenses are older Nikon lenses and were released in 2002. They were designed for SLR cameras that do not have certain features. The G lenses are newer versions that were designed for more modern SLR cameras that offer advanced features.
Both lenses relay focus distance information to the camera for 3D Matrix TTL metering systems, this includes flash exposure control.
What is the D and G lens?
The letter "D" found on older Nikon lenses means distance information is factored into the metering process.
Many D-type lenses have an aperture control ring and are compatible with older Nikon SLR cameras that allow you to manually control the aperture. These lenses can also be used on DSLRs for adjusting aperture when recording D movies on more expensive models.
When they are used on DSLRs, the aperture control ring needs to be locked at the smallest aperture. This is usually designated in orange. The aperture control is managed through the camera's command dial.
Nowadays all Nikkors have distance encoders, so you won't find "D" on new Nikon DSLRs, only "G".
The letter "G" means that the lens has an electronic diaphragm control, so you set the f/stop from the camera. These lenses can be used on DSLRs that allow you to adjust the lens aperture from the camera's command dial. This helps to regulate the ambient and flash exposure.
Let's take a more detailed look into the Nikon D and G lenses before we compare them.
Nikon D Lens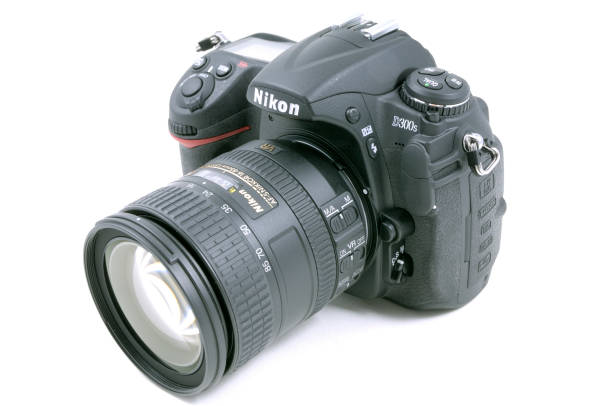 The Nikon D lens allows you to shoot in dim conditions, but they require manual focus. The D type Nikkor lenses are also easy to operate and can be used for a variety of functions, which include basic day-to-day photography and professional shoots.
Key Features
The Nikon 50mm f 1.8d lens has a 15 optimum reproduction ratio and a focus distance of 1.5 feet. The lens boasts a 50mm focal length and offers a 31-degree angle of view.
Pros
The D-type lens is versatile and can effectively shoot in different lighting conditions. D lenses have a Super Integrated Coating which decreases the lens flare and ghosting, giving you better contrast and color accuracy in bright and dim lighting.
These older lenses feature a conventional mechanical aperture ring which provides more control in terms of the depth of field when you are isolating your focus. You can change the lens aperture by twisting the focus ring around the lenses.
The focus speed of the D-type lens is a minute fraction of a second faster than the G lens. It allows you to capture very sharp images. The D lens can stop down to f/22 whereas the G lens can only go to f/18.
The D-type lenses have higher optical quality compared to the G lens. It does not distort as much and it produces less vignette around the edges.
The D lens has a light and compact design, making it easy to carry around wherever you go.
Cons
Unfortunately, the Nikon D-type lens can be very limiting to work with because it is not compatible with all Nikon cameras.
These lenses are inconvenient as they require you to manual focus, which can sometimes be tedious during a shot. Unlike the G lenses, the D-type lenses do not have a motor in the lens which allows them to focus. So unless your camera has a focus motor, you will not be able to autofocus with the D lens.
The focus motor on the D lens is very noisy which makes it an unattractive choice especially when you are shooting weddings or quiet ceremonies.
The white rear lens cap cannot be compared to the standard rear lens caps for Nikon lenses. They are poorly designed and fall off too easily. These caps are not a durable choice.
Nikon G Lens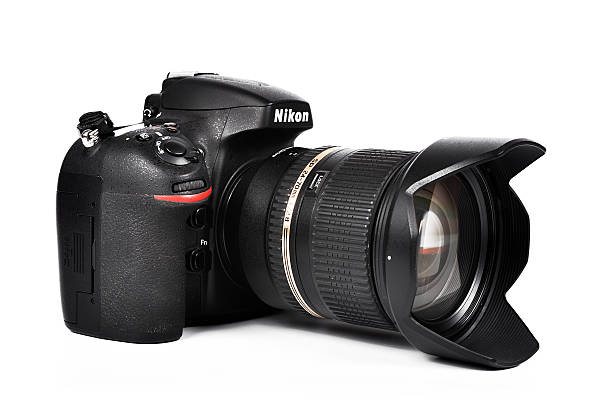 The G lenses are considered to be the prime lens for Nikon DSLR cameras. These modern lenses offer a variety of features that makes your Nikon camera more efficient and easy to use, for example, their autofocus motor. They are designed to complement the features of modern cameras.
Key Features
The G-type lenses also provide a 50mm f length and have an aperture range of f/1.8 to 16. They feature an F Mount Lens/FX Format and boast a silent wave motor AF system. The G-type lenses offer seven rounded aperture blades, a 58mm filter thread, and a reversible lens hood.
Pros
The Super Integrated Coating allows you to capture finer details when shooting portraits. It improves the light transmission and color consistency, whilst reducing flare.
The G-type Nikkor lenses feature an Aspherical Lens Element which removes aberrations when you are shooting with the maximum aperture. This allows you to capture stunning images even in poor lighting conditions like cloudy weather.
The silent wave motor of the G-type lens is super silent and more accurate than the D lens. Because it is not noisy, it is ideal to shoot for all occasions.
The long thread size increases the light-collecting power. This means you can capture brighter and higher-resolution images. It offers substantial optical quality.
The rounded aperture blades yield more smooth and attractive bokeh in images. This is the aesthetic blur created in out-of-focus parts of a photo.
The G-type lens is compatible with most modern cameras, making it a better option.
The G lens is a well-built camera lens with a lightweight but sturdy design.
Cons
The G lenses are around $100 more expensive than the D lens.
Despite their lightweight, these lenses are bulkier than older models which can make them a little more difficult to travel with.
The AF G lenses do not have a conventional aperture control ring. The white dot near the edge of the lens barrel is the lens mount index mark. However there is no need for the aperture focus ring anymore, but some people prefer adjusting the aperture manually.
Nikkor D lenses vs. G lenses
You have probably already realized that the Nikon D and G lenses share a lot in common. But when you look more carefully into their specs, you will be able to pick out the differences.
The Nikon G is used on entry-level cameras. They feature an AFS System and are a modern version of the D lens. When it is used on DX cameras you can get 100% magnification, making it possible to achieve two-eyed shooting. The G-type lens is effective for FX digital and 35mm film.
It features a modern optical system that contains a spherical lens element which you cannot find on the D lens. This produces better optics and can be very useful for professional shoots.
The fast f/1.8 aperture of the lens allows it to produce amazing photos, regardless of the depth of vision. When it is on a DX camera, it provides a similar view to that of a 75mm lens on a 35mm camera.
The Nikon D, on the other hand, is a compact lens that allows for natural photos and incredible sharpness. Its lightweight makes it easy for everyday photography.
The D-type lens is manual focus lenses. They are equipped with an aperture control ring that enables you to make manual adjustments during live video shootings.
The lens uses FX in DX crop mode 35mm film. This allows you to get a focal length of up to 1.5 ft. which produces sharper close-up photos.
Similarities
Both Nikon D and G have a focal length of 50mm and you cannot zoom with their lenses. You can only use magnification levels of both lenses.
Both lenses are standard type lenses and have a maximum aperture of f/1.8.
The D and G Nikon lenses are compatible with Nikon F (FX).
Head to Head Comparison
Now we are going to compare the Nikon D and G lenses based on their focus speed, sharpness, ergonomics, weight, and size.
Focus speed
Wide aperture lenses allow you to shoot from your hand even in poor lighting conditions, without needing to increase the ISO. The D lens has a fast focus speed, but the G lens has an even faster focus speed.
Sharpness
Lens sharpness is all about creating evenly sharp images. A general rule of thumb says that most lenses are the sharpest two stops down from their maximum aperture. While the Nikon D delivers sharp images, the G is sharper across the range.
Ergonomics
It is so important to have an efficient and comfortable lens, especially during long photo shoots. The design, shape, and grip of a lens affect handling.
Both the D and G lenses are sleek and easy to handle. The Nikon D however is lighter in weight and more convenient to travel with, whereas the Nikon G boasts a durable, sturdy design.
Weight
The Nikon D and G lenses are both compact and lightweight inbuilt. The D lenses weigh 155g whereas the G lenses are slightly bulkier and weigh 185g.
Size
The size of a camera lens makes all the difference in the world. You don't want something too big and bulky, but neither do you want to compromise the quality of your images.
The Nikon D is smaller in size compared to the G lenses which are noticeably longer and wider inbuilt.
Which Nikon Kit Lens is better?
The Nikon G lens is better for entry-level Nikon cameras. They are quieter, faster, and deliver sharper photos. But they are also more costly.
If you are on a budget, the Nikon D lens would be a better choice but keep in mind that they only work with specific cameras.
Which Nikon lens is right for your DSLR?
Nikon manufactures two different types of DSLR camera bodies, ones that have a built-in focus motor and ones that don't.
The cameras that do not have a built-in focus motor need a lens that has a built-in focus motor, like the Nikon G lens. Lenses that have a built-in focus motor have the following abbreviations, AF S and AF P2.
Nikon lenses, like the D lens, without a built-in focus motor, are called AF lenses.
More: 2 megapixels vs original format in Nikon Snapbridge
Conclusion
Both Nikon lenses are compact, lightweight, and boast impressive capabilities. They share a similar design structure and both have no lens hood. They also both work effectively on full-frame cameras.
Overall, in this lens review, we highly recommend the Nikon G lens. Even though is it more expensive than the D lens, it delivers enhanced optical quality, smooth and silent motor, rounded aperture, and blades which are common in top-of-the-range lenses.
It is easy and comfortable to handle due to its outstanding ergonomics. But most importantly, it can capture sharp, outstanding images even in poor lighting.